Versatility is the Name of the Game
When we moved here, a little more than a year ago, we bought several new pieces of furniture. One of my favorites I found at a furniture consignment store and re-painted it to suit my needs. I used it in our Living Room to hold the TV. You can take a tour of my Living Room here.
This is what it looked like last winter.
A few weeks ago, I got an awesome deal on a TV armoire. You can see it and the inspiration I found to re-do it here. I will be showing the TV armoire in it's new home sometime this week, you won't want to miss it.
So, what did I do with the piece above? Versatility is the name of the game. I love pieces that can be used in different ways and in different parts of the home.
Now it's in the Dinning room being used as a Buffet, and it's all dressed up for Fall.
I love how it looks in it's new home!
Follow me on Pinterest, I'm adding to my Holiday Board daily.
Linking to :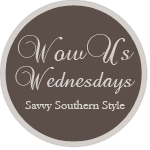 Flaunt it Friday @ Chic on a Shoestring Decorating
Happy Hour @ Craftberry Bush